AsianBetSoccer is a service for checking the Asian odds of scheduled matches from all over the world. The software processes a series of values based on the Asian odds and assigns the "configuration" created to each match in the schedule. Each game with its configuration is entered into a Database. The new configuration is searched in the database based on a standard or customizable filter, returning the total count of matches with a similar configuration and the results of the major types of bets. The results obtained from this comparison are amazing, in fact this exclusive AsianBetSoccer method ("ABS method") is not a real check on the statistics, but rather a direct check on what the bookmakers think about the reference match.
Spread Alert
The site does not have particular extra functions but it is very useful for sifting matches with a large variation of odds. A significant variation of the Asian Odds leads to a strong imbalance in the odds. Bookmakers adapt by changing the spread.
Tips Alert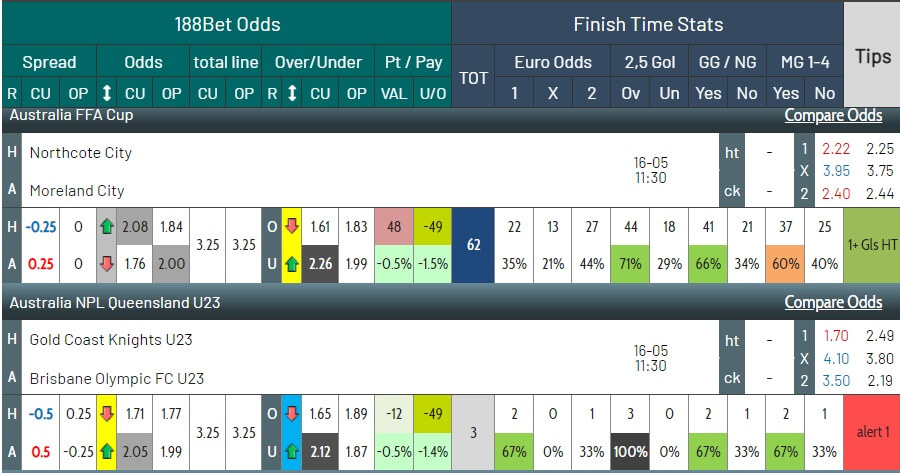 On this page you can see the bottom line where alert 1 in red color. This is the prediction we like the most because it indicates a large variation in odds. A dropping odd that suspended the spread from 0.25 to -0.5, correcting the odds around 2.00. Note the large variation of the Gold Coast Knights U23 from 2.49 to 1.70 in red.
Above, however, a prediction is given. In this case the victory of Nortcote Ciyt + 1 goal in the first half. From our point of view, however, there is no good tips. They should be filtered and checked more carefully and it takes longer than expected. Then most of these predictions concern minor league championships where it is difficult to find important information.
You can see the full tutorial of this great toll here in their website –>