OddsMath.com is an odds comparison site for monitoring dropping odds, odds changes and international market movements.
All features that we can access simply with the free version. The premium version have tips to follow.
How to use OddsMath: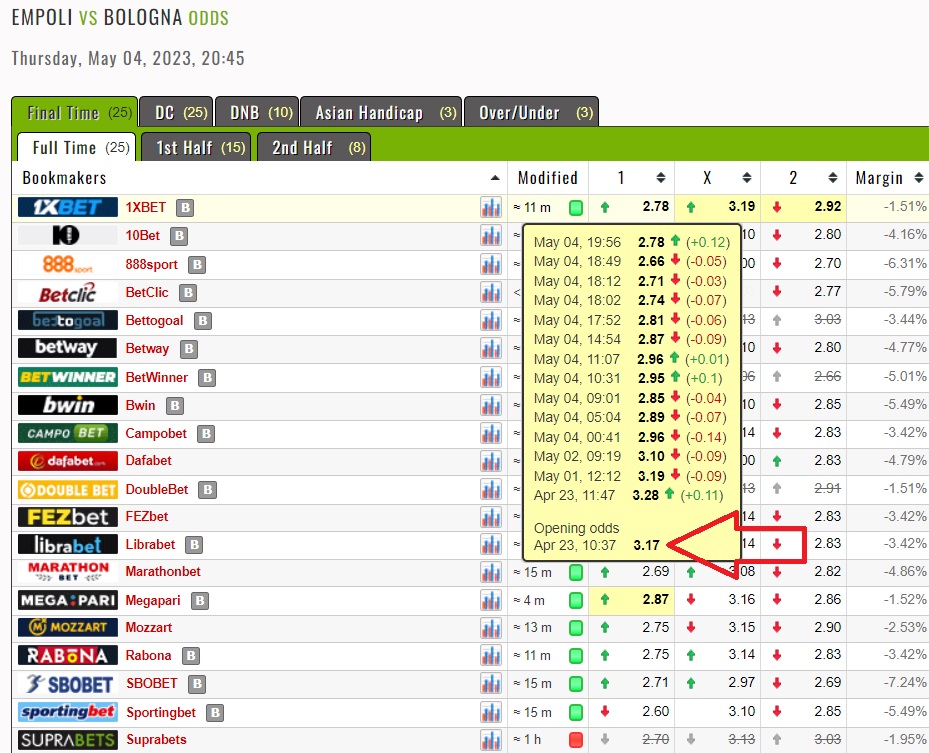 From the 1X2 columns, but also from all the other available outcomes, we have a clear view of what the market is doing in real time. When the arrow is red the share is declining, when it is green it is increasing.
Furthermore, by hovering the mouse over one of the odds, it also shows us the history of all the changes that the odd has had since it was opened.
It also tells us when the share opened and at what level it was.
The opening odds and odds just before the start of the match
If an opening price was 1.80 and is raised to 2.10, when we see it fall to 1.90 we cannot speak of an effective drop.
Because it is still higher than the opening anyway.
So, for my way of conceiving the study of quotas, in that case we are not seeing a real decline: the quota is just returning to the initial parameters.
If, on the other hand, from 3.17 at the opening we find it at 2.66 then obviously yes, we are seeing a drop on the opening.
We shouldn't bet by looking only at drops from OddsMath or similar sites (OddsPortal, etc).
We miss too many important elements by doing this:
such as betexplorer stats, bookkeeping,
relationship between the real price booked and the bookmaker's price.
Looking at what many international bookmakers do is not decisive.
When bookmakers all behave differently, who goes up, who goes down, etc. is not a great indication.
But when, a few minutes into the match, everyone buys on a specific mark then it can be interpreted as a good sign.
This is the confirmation to be sought at the end of a study, after having compared the book quota with the Real Booked Quota.
When the statistics suggest the 1.
And the odds ratio favors 1.
Bookmarking is also at 1.
And if then the arrows all go to 1… then yes.
BET 1
Another very important thing:
The fundamental element of the drop, to be considered as such, is that it takes place a few minutes before the match.
5 minutes.
3 minutes.
30 seconds before.
It is useless to talk about drops if there are 12 hours left before the match starts.
In that case the quota would have time to go up or down a thousand times.
The drop is evaluated in the final minutes.
In the final moments.
Ultimately if you want to bet with oddsmath you don't just have to look at the drop, but also do an analysis with betexplorer and add more filters that confirm the prediction and thus create a strategy combined with good money management.