What is moneyway?
Moneyway shows the volume of the money wagered for a given sporting event and also the volume of the wagers on a given sign at that sporting event. This is Moneyway service for football 1 X 2 market. The more money wagered on a given sign from a sporting event, the greater the percent of the wagered money for it grows in relation to the other sign/s for the same sporting event.
Moneyway Tips
Betting using only the moneyway filter is very difficult to profit from unless you use an aggressive strategy like the martingale which is best not to use. The solution is to add a dropping odds filter and your own technical analysis using betexplorer. Even more is better if you focus on games with a high betting volume. However, be aware that the betting volumes you see on Moneyway sites such as BTF odds or ARBWorld are the betting volumes of the Betfair.com exchange. It's not the world's betting volumes.
The Best Strategy to use the MoneyWay Tools
The best strategy to use therefore is the multifilter one. The number one tip is to focus only on matches that start in an hour and even better in half an hour. Same thing for dropodds. All this after you have analyzed the game and predicted the event using for example betexplorer then place as well. Obviously follow a good money management strategy.
Best site to find MoneyWay
ArbWorld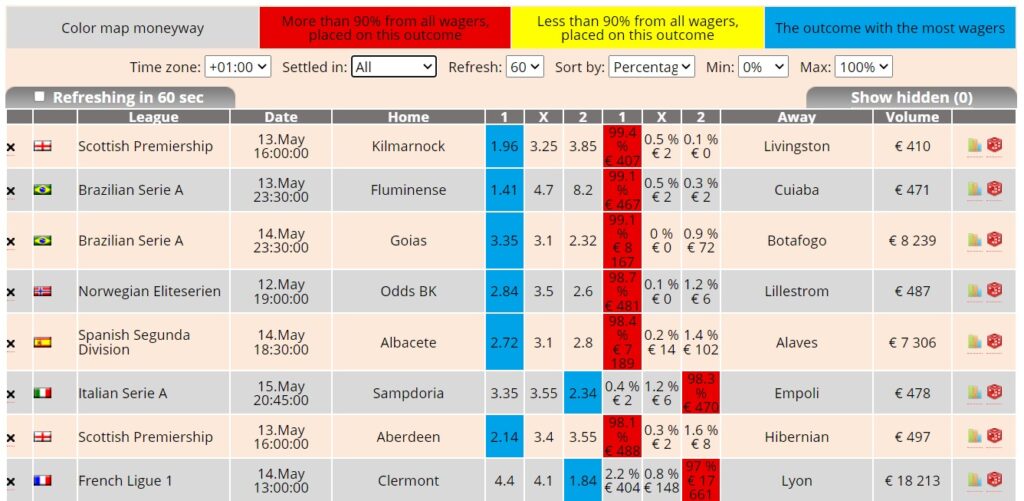 Arbworld is a free site where you can check the trends of betting volumes for upcoming events. As you can see in the image of the site, it is possible to choose today's or tomorrow's matches and the minimum and maximum percentage of volumes on a market. The market available on Arbworld is only that of 1X2.
BTFODDS
BTFodds, on the other hand, is the number one tool for bettors who need this moneyway filter to optimize their bets. Of course, not all games are available in the free version. In the paid one, however, you can see everything and also use other tools internal to the platform such as dropping odds, Tips, the Bet Traps which are the trap odds of the bookmakers and the Valuebets and various other tools.